Now it's food!
To this day, fish balls are an everyday staple in the island kingdom. "No e det meddag!" ( Now its dinner in the Islander dialect) – is shouted up in attics, down in cellar rooms and out on lawns, and when we gather around the dinner table it is to the sight and smell of the same dinner set as 70 years ago; Freshly pulled ball with fried pork, boiled potato, boiled carrot and sliced ​​boiled turnip.
One would think that a dinner dish with such pure ingredients and long traditions would appear in new ways over the years, but no. You don't joke with a ball!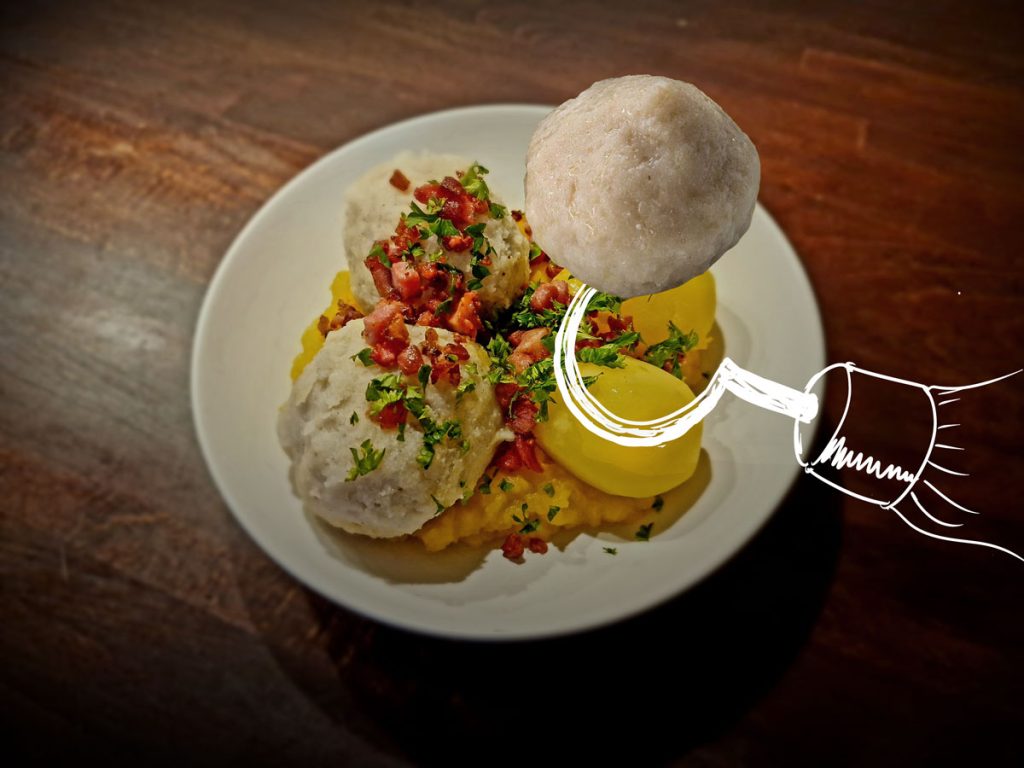 Fresh fish or salt fish!
To make a good fish ball, cod and haddock are used in particular, although any white fish can be used.
The fish is finely chopped for stuffing, mixed with cold milk, onion and potato flour. Ister from lamb or pig, seasoned with pepper, cloves and allspice, is placed as a dot in the center of the ball. Then the ball is simmered in broth. The ball is the size of a tennis ball and two balls with accessories are suitable for a meal.
Saltfish ball is made in the same way, and is a ball made from old salted cod, ground together with potato, onion and barley flour. Gammelsalta sei (old saltet pollock) is based on an old method for preserving fish, from the time when there were no freezers. The fish is gutted and spotted and placed in barrels with salt between the layers, kept cool and can be stored for several years.
Invite to a meal of ball!

A meal with such long traditions and pure flavours, that you can feel the historical rush and the community of hungry coastal people around the dinner table, after a day out in the crisp sea air.
Fenalår
It is summer night, and only the glow of the fire remains in the spring stones. The beer is left to cool in the cold sea and the fenalår ( cured lamb thigh), and the knife is sent from womenfolk to vessels.
Cutting off a piece of cured wild sheep thigh, from an animal that has grazed on the heather just behind the rock we are sitting on, on a windless and bright summer night, makes one think about ecosystems, belonging and a community with both animals and nature.
It is the month of February and the wild sheep find shelter against the icy snow in rock gorges and under clumps of spruce. It starts to get dark before four o'clock in the afternoon, and we just don't get home from work and tasks before it is completely dark. On days like this, it feels extra safe and good to come home and cook a warm plate of porridge with a slice of fenalår, while sending a reverent thought to the animals, who go out in all kinds of weather, all year round.
We serve fenalår with home-made potato salad and flat bread for voluntary work, national day, as well as at confirmations and weddings.
Fenalår of wild sheep; The island's cured ham, with us for all seasons!
GRAVED/SMOKED SALMON
Have you tasted Tuva or Vidars Salmon?
Smoked and graved salmon is a craft that has always had local experts and favourites. When you come from the islands Hitra and Frøya, good smoked and graved salmon always have a personal signature. And the salmon itself comes from the clean sea around our islands.
When the mustard sauce and salmon arrive on the table, it's a party! The traditional preparation is on flatbread with scrambled eggs or almond potatoes. But smoked salmon and graved salmon also have other party costumes; salmon is delicious in pasta, risotto and pie, on the tapas table and in sushi, salads and sandwiches. – and constantly finds new dance partners!
Cheese
We are down in a cave that stays at 12 degrees all year round. The lighting is dim and the senses are heightened. Here, cheeses are left to mature for up to a year. And the cheeses are among the best in the world, because the alliance between good craftsmanship and happy cows is so magical!
The names of two of the cave cheeses are Ungkaren and Gammelungkaren. These names give associations to the cheese's properties; they have character and peculiarities, different storage times and different maturity. What "Ungkarene" (bachelors) have in common is that they are independent, tolerate being alone well, but can be even better with a sweet partner…
Hitra white and Hitra blue are mold cheeses with a delicious creamy consistency, and Kristine's soft is exactly that; – a soft and friendly canembert-like cheese, good on freshly baked bread.
We eat cheese like the rest of Europe eats cheese; We nibble, cut off, enjoy… Precisely on that point, we are reasonably continental.