Enter a green-painted door, and you step straight into a room with a delicious atmosphere. Welcome to Hurran Spiseri (eatery)! The room is friendly and generous, with things that are beautiful, not because of their perfection, but out of their history or uniqueness. At Hurran, the craftsmanship and history are visible in all the components that make up the whole; in the interior and details, as well as in the food and music at the facility.
Coffee, freshly baked pastries and cakes meet you at the counter. But if you sit down at one of the tables, the menu there tells about delicious brunch dishes. And we really only call it brunch/lunch because of the time of day, – because this is a menu that primarily celebrates the ingredients available!
And speaking of availability and raw materials… we live in a rich,admittedly winded , food dish! Fish, game and greens depending on the weather conditions and the conditions of the landscape. The archipelago's cultural specialties are carriers of history from a time without conveniences, where the storage and preservation methods become part of the taste expression.
In the eatery you will meet more of these ingredients, but perhaps made in new ways? Brandade with cliff fish, pizza with smoked salmon, pulled lamb from wild sheep, carpaccio from whale or deer…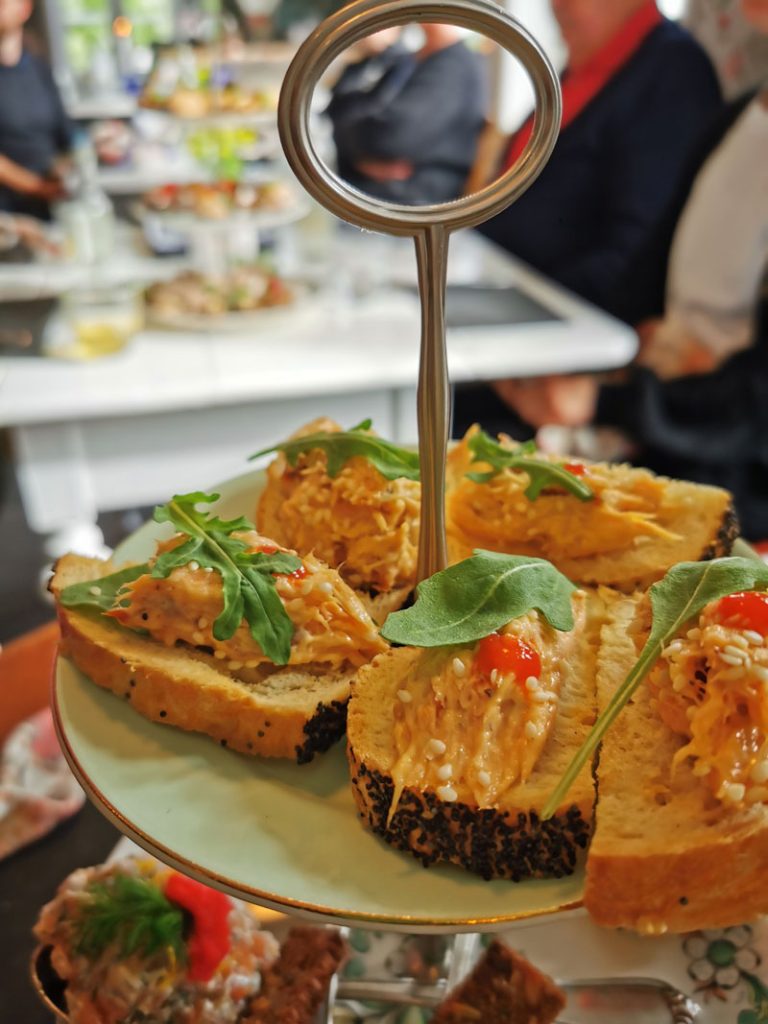 But for the food-interested visitor, the brunch plate Smaker fra Øyriket (Tastes from the island) is the perfect introduction to the island's pantry!
The brunch plate "Smaker fra Øyriket" is like a class picture where the island kingdom's local products are gathered together wearing their prettiest smiles. Both smoked salmon, cured meat and cheese from local producers have their place, accompanied by the eatery's own pickled greens and berries, and greens in season.
To enter the green door in the Hurran Spiseri, you must visit us during our opening hours, which are Saturdays and Sundays in season (Easter, summer and Advent), or contact us to book a group/closed party on Thursdays/Fridays/weekends all year round .
Hurran spiseri is located in the area of Flatval on Frøya. Turn left at the roundabout after the Frøya tunnel and drive 5 minutes south. The exit to Flatval is well marked.
You can also come by private boat, if you make an agreement in advance.
The sisters Aina and Sara warmly welcome you!